Journal of Electromyography and Kinesiology (JEK)
The Journal of Electromyography and Kinesiology (JEK) is the official journal of ISEK and published bimonthly. ISEK members can subscribe to the journal at a reduced rate.
Journal of Electromyography & Kinesiology is the primary source for outstanding original articles on the study of muscle contraction and human motion through combined mechanical and electrical detection techniques. As the official publication of the International Society of Electrophysiology and Kinesiology, the journal is dedicated to publishing the best work in all areas of electromyography and kinesiology, including: control of movement, muscle fatigue, muscle and nerve properties, joint biomechanics, electrical stimulation, motion analysis, sports and exercise, measures of human performance, and rehabilitation. Months of publication: March, June, September, December. The journal is featured in Biomechanics World Wide.
JEK is becoming the primary research and education forum for researchers, teachers and clinicians in a range of disciplines: electrophysiology, physical therapy, biomechanics, electromyography, rehabilitation and sports. The journal is indexed  in Index Medicus / MEDLINE, Current Contents and the Neurosciences Citation Index.
More information can be found on the publisher's website Elsevier Science.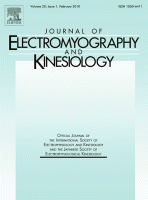 Special Issues Announcement
The International Society of Electrophysiology and Kinesiology (ISEK) and the Journal of Electromyography and Kinesiology (JEK) announce a request for original research articles, review articles, and tutorials to the editor for 3 special themed issue.
The title of the special issue has to be included in the cover letter of the submitted article.
Deadline for submission: June 30, 2021
Special Themed Issue on "International Motoneuron Society: from motor unit discharge to motor control"
Alpha motoneurons are the so-called final common pathways of the motor system since they integrate the synaptic inputs generated from different parts of the central nervous system and transform it into force. For this reason, the analysis of the discharge properties of the spinal motoneurons is an effective window to provide new insights into the motor commands responsible for the generation of movement. Several techniques are available to decode the motor command to motoneurons from their firing patters, but the selectivity of traditional intramuscular EMG recordings has limited our ability to extract these estimates and generalize across the motor pool. Recent advances in EMG technology have provided the possibility to extract populations of motor unit discharge patterns during voluntary and evoked contractions in both humans and animal models. These improvements will undoubtedly progress our understanding of motoneuron discharge and its relation to the output force generated by the contractile properties of the muscles.
This research topic will focus on the recent advances in using the discharge patterns from populations of motor units in order to achieve unprecedented insights into the neural organization of the motor command. The contributions are expected to show how the possibility to extract tens of motor unit discharge patterns in the same contraction has significantly improved our ability to estimate the synaptic drive to and intrinsic excitability of the spinal motoneuron. Moreover, the manuscripts are encouraged to address the problem of consistency of these EMG derived measures, as well as how the motor command may change across different animal species and in pathologies of the central or peripheral nervous system.
This research topic will accept contributions on the identification, analysis, and interpretation of motor units from high-density EMG recordings with the broad aim of estimating and further understanding the motor command to spinal motoneuron.
The submitted articles may fall into one of these three categories: original research articles, review articles, and tutorials.
This special issue is open to all researchers doing relevant work on the above-described topics, and members of the International Motoneuron Society and the International Society for Electromyography and Kinesiology are especially encouraged to submit their most recent works on this topic.
Editor in Chief
Dario Farina
Special Issue Editors
Francesco Negro – Universita' degli Studi di Brescia, Brescia, Italy
CJ Heckman  – Northwestern University, Chicago, USA
Christopher Thompson  – Temple University, Philadelphia, USA
Laura McPherson  – Washington University in St. Louis, St. Louis, USA
Contact Person
Special Themed Issue on "Gaining insights into neuromuscular adaptation from electromyography"
Electromyography offers a way to probe the neurophysiology of the neuromuscular system in health and pathology.  It is well established, for example, that traumatic events may severely affect the control of body movements.  Similarly, it is our common experience that practicing a new task leads to improved motor control and thus proficiency.  Finally, as movements are not single events performed in isolation, neuromuscular fatigue can gradually develop and induce a cascade of phenomenons during actual movement execution to maintain movement performance. These changes, largely perceived and experienced at the motor level, are hardly dissociated from alterations in the way activation of skeletal muscles is orchestrated; i.e., from neuromuscular adaptation.
Neuromuscular adaptation may manifest in different ways, regardless of its cause, and this can be observed in a number of pathologies and conditions.  While people suffering from cerebral infarction or cerebral palsy are often unable to walk smoothly because of motor impairments including excessive activity of ankle plantar flexors, suppression of undue muscle activity is typically observed when learning a new motor task.  Musculoskeletal pain changes how muscles are activated in attempt to protect the painful/injured tissues, and these changes in neuromuscular activation strategies are thought to maintain pain and disability in the long term.  Neuromuscular fatigue, pathological co-contraction, impaired coordination of synergistic muscles, inability to finely regulate muscle force and redistribution of activity between different muscles or muscle regions are other examples of neuromuscular adaptations elicited by a myriad of acute and chronic disorders and responses to environmental demand.  Aging alone may lead as well to neuromuscular alterations, affecting posture control and general motor skills.  In contrast with these deleterious motor effects, adaptations of the neuromuscular system may be associated with improved motor control.  Learning to appropriately pattern the activation of populations of muscles is a primary goal of training programs, as establishing optimal muscle activation strategies is the key aim of rehabilitative protocols. Recognizing maladaptive patterns from adaptive motor control may be difficult clinically during movement execution. Regardless of whether prompted by adverse conditions, training or rehabilitation, the possibility of sampling muscle activity from electromyography in dynamic tasks is determinant for understanding the mechanisms underpinning neuromuscular adaptation. 
This research topic gladly receives contributions focusing on the use of electromyography to gain insights into neuromuscular adaptation.  Submission of articles falling within any of the three following areas are encouraged:
Original manuscripts addressing changes in either the neural or muscular level resulting from abnormal conditions, from chronic disorders, from motor learning, from adaptations to muscle fatigue development during movement execution, or induced by rehabilitative programs. 
Methodological articles highlighting new processing techniques for the extraction of information related to neuromuscular adaptations from electromyograms.
 Interventions aimed at inducing neuromuscular adaptations, with the ultimate goal of improving motor function and clinical outcomes.
 Basic research studies focusing on neuromuscular adaptations to experimental pain (or other afferent stimulation techniques) or to developing muscle fatigue are also welcome.
Editor in Chief
Dario Farina
Special Issue Editors
Taian Vieira  – Politecnico di Torino, Torino, Italy
Alberto Botter  – Politecnico di Torino, Torino, Italy
Alessio Gallina  – University of Birmingham, Birmingham, UK
Kohei Watanabe  – Chukyo University, Nagoya, Japan
Laurent Bouyer  – Université Laval, Quebec City, Canada
Contact Person
Special Themed Issue on "Neuromuscular control of body mechanics: novel insights from innovative approaches in the laboratory and clinic
Moving purposely throughout our world requires an ability to regulate the mechanics of our bodies. Regulation of the stresses on joints, ligaments, and articular surfaces is essential for distributing loads within the body while regulation of the mechanical interface we present to the external world is needed for purposeful movements and physical interactions. Restoring our ability to regulate the mechanical actions and attributes of our bodies is fundamental to rehabilitation medicine. While the role of task-appropriate biomechanics is easily appreciated, the neural and physiological mechanisms contributing to them are often poorly understood due the challenges associated with measuring the actions of muscles, tendons, and neural pathways in functionally relevant conditions. These limitations have also impeded the development of novel and effective rehabilitation strategies. This is because the most appropriate mechanisms to target and the methods for doing so have not yet been established for many many of the disorders that affect the sensorimotor systems underlying the neural control of human body mechanics.
The purpose of this special issue is to highlight recent studies that have expanded our knowledge of the neural and biomechanical factors contributing to the regulation of body mechanics. We welcome submissions that present novel methods or results in this area, or which leverage novel methods to advance the practice of physical medicine and rehabilitation.
Editor in Chief
Dario Farina
Special Issue Editors

Eric Perreault  – Northwestern University, Chicago, USA
Fuminari Kaneko  – Keio University School of Medicine, Tokyo, Japan
Yasin Dhaher  – UT Southwestern Medical Center, Dallas, USA
Jon Shemmell  – University of Wollongong. Wollongong, Australia
Matthew Tresch  – Northwestern University, Chicago, USA
Contact Person